KAMAX and HACKERBAY - Strategic Partners
The digital age has already begun at KAMAX: Following the successful presentation of a fully automated production line at the end of 2017 at the subsidiary Tools & Equipment GmbH und Co. KG in Homberg (Ohm), the concept is now being successively extended to other areas of the entire Group. For further development and implementation of its digital strategy, KAMAX was able to win over the experts from HACKERBAY.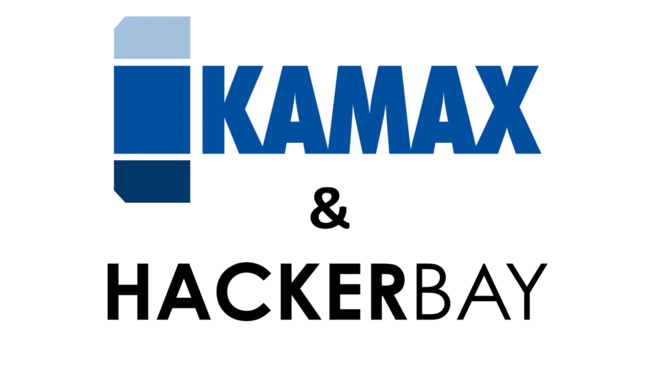 The new strategic partner specializes in working with companies to identify digital potentials in business processes and to utilize them through tailor-made software solutions. The young start-up from Berlin uses the latest technologies such as artificial intelligence (AI) or blockchain. "Hackerbay has excellent contacts to the creative centers around digitization, especially due to its second location in Silicon Valley (USA). With their expertise and experience, they will support us in further developing and implementing our digital strategy," says Jörg Steins (COO of the KAMAX Group).
As digitization progresses Hackerbay will support KAMAX with their expertise, in consolidating the ever-increasing amount of data and making it quickly usable in clear applications. The cooperation has already achieved great success in an initial project: In the field of cold forming, it was possible to summarize the data of all machines in real time in a clear and concise way, using a specially programmed app. What was previously determined manually can now be retrieved at any time. In addition, recommendations for action and rescheduling are generated automatically. "For our employees, this has the positive effect that they can concentrate better on their actual job and do not have to spend more time than necessary on administrative tasks," explains Jörg Steins.
Tobias Jost, CMO of Hackerbay, compliments the constructive cooperation with the app operators at the Homberg plant: "We worked very closely with the production shift leader to develop the software solution. On the one hand, this increases acceptance among the target group and, at the same time, the functional chances of success of the product". He mentions, that it is also interesting to observe the dedication and initiative of the employees in designing the product. This willingness for innovation can be seen again and again across industries and companies. "The reason for this is that millions of people are already confronted with smartphones, tablets and apps every day of their private lives and live in an increasingly digital world."