Lightweight solutions at SAE International World Congress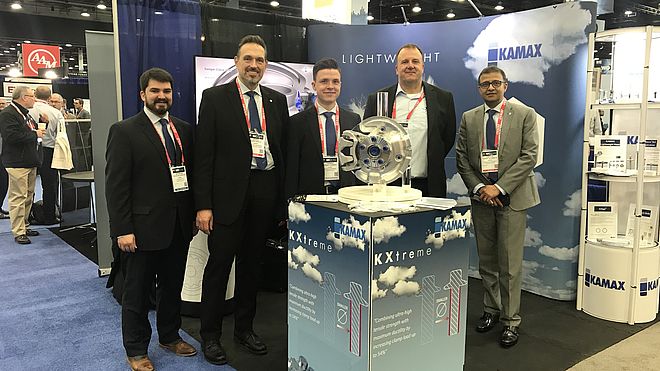 KAMAX exhibited at this years' SAE International World Congress Experience (WCX) in Detroit, Michigan and presented our company's lightweight solutions. The WCX is the annual event for engineers, executives, OEMs, suppliers and the entire spectrum of the mobility-engineering field. KAMAX has been presenting at this forum since 2018.
The mobility industry's key players and decision-makers gather at the WCX to source new solutions, seek out the latest products and services, and find creative and technical inspiration from new technologies. Besides the exhibition, the three-day event featured keynote sessions, a learning lab, a start-up pavilion with turnkey displays, and a public demonstration of autonomous vehicles.
Our company's delegation was led by Mario Braun, VP Product Management (EU), and Tushar Mulherkar, VP Product Management (NAFTA), supported by team members from Sales and Application Engineering. They presented our innovations focusing on the KXtreme, KXalu, KXhead and KXtap product group. Apart of this, they also demonstrated a re-designed Steering Knuckle assembly (small car), using the above product groups with weight saving potentials of approximately 600g per wheel.
SAE International (formerly Society of Automotive Engineers) is a globally active professional association and standards developing organization for engineering professionals, emphasizing on transport industries such as automotive, aerospace and commercial vehicles. By engaging nearly 200,000 engineers, technical experts and volunteers, SAE connects and educates mobility professionals to enable safe, clean, and accessible mobility solutions.