As a value-based and family-owned company group with a heritage, our corporate goal is not only financial success, but also to always meet our responsibility towards our employees, our partners and customers, the society and the environment. These goals have been closely linked since the company was founded. Our guidelines and our code of conduct define our corporate activities. Our global compliance management system allows us to monitor and secure these activities worldwide.
KAMAX has established a group wide Compliance Organization which steers Compliance under the direction of the Group Compliance Officer as well as Local Compliance Officers at all KAMAX operations. Our global Compliance Management System aims to continously strengthen and foster the awareness and the understanding of our employees and business partners in terms of responsible behavior and integrity. Our Compliance Organization acts in three dimensions: "Prevent", "Detect" and "Respond". Compliance topics as well as potential infringements are regularly discussed in the Compliance Committee on a local and global level and reported to the Group Executive Board.
Our compliance management at a glance: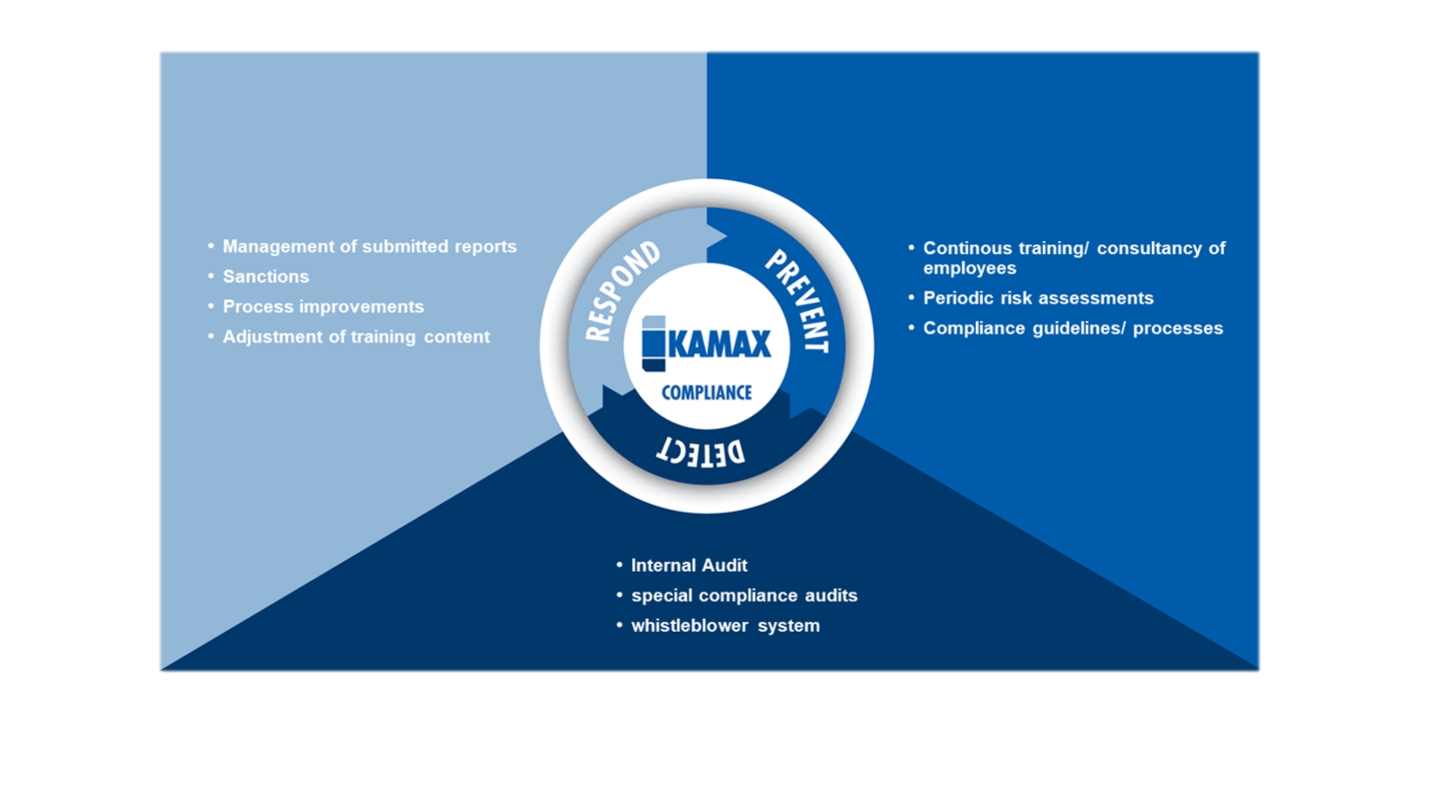 Whistleblowersystem
Submit your report - Your insights can help!
We are strongly committed to compliance and integrity. As potential infringements may endanger our business success and the security of our employees, we kindly ask you to report any potential misconduct at an early stage. We also would like to encourage our employees to contact our Compliance officers at any time to consult on any questions how to handle specific situations correctly in the daily work. For the submission of reports or requests for advice by our employees, KAMAX provides several possible channels:
Code of Conducts
KAMAX Code of Conduct
Our Kamax Code of conduct, binding for all our employees, provides clear rules for integrity and compliance and thus serves as compass for all our employees for any decision in their daily work.
KAMAX Supplier Code of Conduct
Responsible behavior and transparent business processes are the basis for our trustful cooperation with our business partners. Therefore, our Supplier Code of Conducts contains our requirements and expectations towards our business partners.
KAMAX ranks customer satisfaction as a top priority
We know and meet our customers' expectations. Our complete range of services is accordingly oriented towards continuously increasing the benefit to our customers. We monitor satisfaction with our services on an ongoing basis with customer surveys.
KAMAX strives for long-term partnerships with customers and suppliers
We let our performance speak for itself - both in technical and commercial terms. This creates long-term cooperation with our customers in terms of development and consultation, which goes beyond a simple supplier relationship. This also applies for our main suppliers; we expect them to have the same demands regarding quality and profitability on themselves as we do on ourselves, and we ensure this is the case through audits.
KAMAX is strong thanks to the strength of its staff
We bring talents into our company and promote their growth and further development. With lots of space for ideas and the assumption of responsibility, we strive to achieve first-class performance and results. Enthusiasm, passion and working together across borders and hierarchies characterize our working atmosphere.
KAMAX makes high demands on managers
We select our managers for their knowledge and performance along with their personality, in particular their attitudes and leadership potential. Our managers are role models for their staff and lead with a performance-oriented and cooperative management style that is appropriate to the situation.
KAMAX is a market-leader in technology
We set global standards in the areas of innovation, quality and profitability. This service portfolio makes us the leading provider of sophisticated high-strength fasteners for the automotive industry. This market position is further strengthened and enhanced by our international presence and growth.
KAMAX offers customers innovative individual solutions
We are a global leader in the development and production of fasteners for the automobile industry, with optimized features and costs. Providing customized application developments and services our customers benefit from our comprehensive know-how in product and process development.
KAMAX products meet the highest quality requirements
We measure our performance by our own "zero defect quality" requirement. To this end, we rely on effective quality control and activities which provide quality assurance that is preventive and avoids errors. We continuously improve both products and processes and regularly monitor our performance on the basis of suitable key data.
KAMAX works all over the world to meet global customer requirements
We are close to our customers all over the world at many international locations. With this presence, we ensure support for our customers who work on a global basis that is tailored to their requirements and runs across many countries. Our core markets are the major established automotive regions of Europe and America, as well as the growth market of Asia.
KAMAX secures strategic independence through profitable growth
We strive to achieve high operating efficiency in the long term. Clear profitability targets and a solid finance policy secure jobs and ensure a healthy further development of the corporate group as an independent family business. This is the basis for reasonable management decisions in strategic terms.
KAMAX does not tolerate any conduct in breach of the law or regulations
We operate responsibly and in accordance with legal requirements. Conduct in breach of the law or regulations is not tolerated in the company under any circumstances. We ensure this via globally binding business conduct guidelines, which also demand the ethically correct conduct of all KAMAX staff.
KAMAX also feels committed to the needs of society
We support the development of our society through constructive contributions of a material and immaterial kind in social, cultural and economic areas. We protect the environment by complying with internal global standards which exceed legal regulations.
Our environmental management system
For us, active environmental protection is a strategic task that also makes an important contribution to our long-term economic success. As part of the KAMAX environmental management system, we work with top priority on minimizing the possible ecological consequences of our products and processes and to do more than has been required by legislation up to this point.
Our products themselves are a piece of environmental protection: thanks to the optimized characteristics of our products, vehicle engines and vehicle components can be dimensioned in such a manner that they are smaller and/or lighter. This is our contribution towards reducing mobility-related emissions.
KAMAX environmental standards
Safe compliance with environmental protection laws is a matter of course for us; however, this is in no way sufficient. Our internal rules in some cases go far beyond these requirements. We review our environmental policy on a regular basis and integrate new developments.
Products and processes
We incorporate ecological findings in the optimization of our products and processes, in their further development and in the selection of a raw materials, auxiliary materials, and fuels. We improve energy efficiency throughout the entire enterprise; within the framework of production processes as well as in our administrative areas. We continuously monitor the environmental effects of our locations and, should there be a necessity, we take measures using the best, available technology. We act with foresight, since prevention is better than follow-up care.
Promotion and motivation
Conscientious action is the basis of active environmental protection. Each employee is co-responsible in his work environment for the conduct associated with protecting the environment and protecting health; each manager is obligated to exemplify and support the awareness of this responsibility. Through training courses, information, and incorporation and process designs, we actively promote the education of environmental awareness of our employees on all levels.
Conduct in the event of an emergency and averting danger
Together with experts and government agencies, we have developed detailed alarm and hazard prevention plans that are tailored to the conditions of the respective locations. Through regular formal instruction as well as emergency drills, we ensure that all employees are familiar with these plans and that the effectiveness of these plans is tested on a continuous basis.
Effectiveness test
In regular audits and through other clearly defined measures, we evaluate and monitor the effectiveness of our environmental management system and of all environmental aspects that are associated with our activity. Management determines the required corrective measures as well as new objectives for improving our environmental performance in regular management reviews.
Communication
We are transparent. We regularly inform our customers and the interested public of the measures that we sustainably employ for the environment and of their results.